A friend of mine recently asked me if I've ever felt that, "If you've seen one small French town, you've seen them all." For me, the answer is no. I never get tired exploring small French towns, because each one has different treasures to discover. There are always cultural and artistic masterpieces to take in, shops to explore, and local cuisine to try. Simply put, it is an adventure every time. My latest adventure took me to the small town of Moret-sur-Loing, just an hour outside of Paris. As always, I was blown away by the sheer amount of beauty and history that exists within France. Furthermore, I have never been more warmly received on one of these adventures than I was on that day. I will definitely be making a return trip sooner rather than later.
First, a Bit of History
The town of Moret-sur-Loing dates all the way back to the 11th century, and it was an important royal town for over three centuries during the Middle Ages. By the end of the 12th century, Moret-sur-Loing had come to mark the border between the Kingdom of France and the Duchy of Burgundy. As a result, King Philippe Auguste fortified the town, building ramparts and formidable gates to protect it. In the centuries since, Moret-sur-Loing has housed numerous important figures in French history, including Francis I, Napoleon Bonaparte, Nicolas Fouquet, and Marie Leszcznska, the future wife of Louis XV. Two of the 12th century gates still stand, meaning a lot of history has passed through them over the years.
No Longer Royal, but Still Beautiful
Today, Moret-sur-Loing is no longer a royal town. It is, however, an exceptionally beautiful place to visit for the day. Fair warning, it is a bit of a walk from the train station, but being removed from the sounds of modern transportation only served to enhance the old town ambience. On the day I visited, my first stop was the Tourism Office, where I quickly discovered that Moret-sur-Loing had so much more to offer than medieval architecture. Specifically, its incredible hospitality.
Not only did the people in the office answer all of my questions, but they also gave me personal recommendations of what was worth seeing. They were incredibly patient with my rusty French, and spoke at a pace I could understand. To top it off, I left with not just a map of the town, but an entire book on its history and the surrounding region. For free! It's come in quite handy as I write this, let me tell you.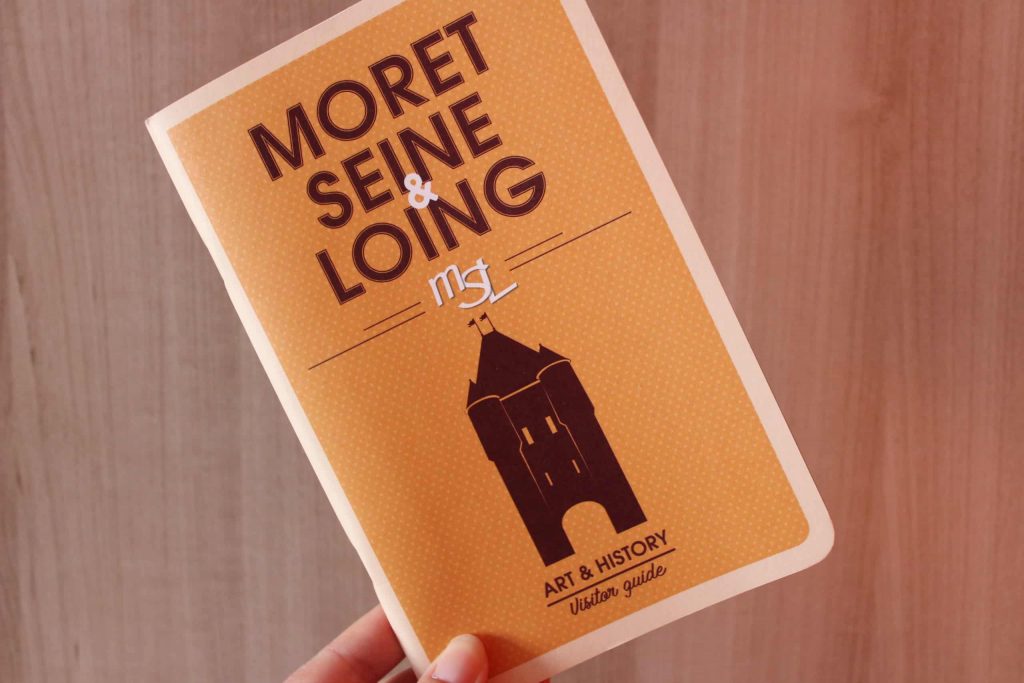 Upon leaving the Tourism Office, I passed through the 12th century Samois gate and began exploring the streets of the old town. I visited the Église Notre-Dame, the Francis I facade, and the charming Hotel de Ville. I discovered that the local delicacy is barley sugar candy, so needless to say I stocked up at the specialty boutique. There's also a museum dedicated to the production of these treats and why they are unique to the town. Finally, I spent a good ten minutes gazing up at the 12th century castle keep, imagining the exploits of all the historical figures who have resided there over time.
After exploring the old town, I crossed the bridge and headed down to the river. It was a beautiful day, and I wanted to take in the views made famous by Alfred Sisley, Moret-sur-Loing's most famous resident. Sisley was one of the original Impressionist artists, along with Monet, Renoir, and Degas. In 1874, he exhibited alongside them at what is now credited as the first Impressionist exhibition in Paris. He moved to Moret-sur-Loing in 1889, and spent the next ten years painting the town until his death in 1899. Today, there are vantage points all up and down the river where you can see where he painted his masterpieces. It's also just a lovely walk if Impressionism isn't of interest.
I finished my day with a visit to the Von Grüt tea shop. Located directly across from the Notre Dame, this beautiful boutique is filled with artisan gifts, local products, and handcrafted teas and infusions. The owner, Pola, is both an artist and astrologer, and she was incredibly welcoming and friendly. I spent nearly an hour chatting with her over a cup of tea about the town and everything I'd seen. Her business partner, Laura, creates all the tea blends herself, and I was proud of my restraint when I only left with three. They all smelt so good! All in all, it was the perfect end to a wonderful day.
As I sat on the train back to Paris, I couldn't help but think that Moret-sur-Loing was just as beautiful as any other medieval French town I've visited. However, what set it apart was all the people I met that day. From the Tourism Office, to the shopkeepers, to my afternoon tea with Pola, the welcome I received was extraordinary. Yes, Moret-sur-Loing has beautiful architecture, a charming town square, and postcard perfect river views. But it also has some of the nicest people I've met in the suburbs of Paris. The next time you have a day to spare, take some time to visit this wonderful hidden gem.
_______________________________________________________________
Laura Moore is a professional storyteller who loves history and the many stories that make Paris one of the most fascinating cities in the world. Join one of her signature tours to learn the story of a city.