The city of Angers is located about an hour and 45 minutes southwest of Paris by train. In North America, that's a perfectly acceptable length of time to travel for a day trip. In Europe, not so much. Or at least, that was the message I received every time I spoke to a local on a recent day trip there. More than one confused look was sent my way, but always with an undercurrent of admiration. I will admit that it was indeed a long day, but it was also absolutely worth it. Angers had more than one surprise in store for me that day.
For one thing, it was probably one of the easier towns to explore that I've visited recently. The woman at the tourism office not only gave me a rather substantial map to keep for the day, but she also took the time to go through everything there was to see and clarify any directions I might need. Second, and this was delightful, there was a green line painted on the ground that snaked its way throughout the city. All I had to do was follow this line, and I would hit all the major sites. Paying attention when crossing the street of course. I learned very quickly that the drivers in Angers are no more patient than their Parisian counterparts.
By following this line, I first visited the Saint-Maurice Cathedral, with its beautiful organ and soaring altar. Sadly, the front facade was under restoration, but the interior more than made up for it. It also provided a convenient shelter from the token downpour of the day. Next up was the House of Adam, a beautifully (and eclectically) ornamented half timbered house from the 15th century. Today, the building houses a wonderful boutique on the ground floor, with dozens of local artisans on display. I may have spent a significant chunk of time browsing its shelves. I finally continued following the line up to the Collegiale Saint-Martin, one of the best preserved Carolingian monuments in France. The church above partially dates back to the 12th century, while the crypt below contained remains dating back to the 3rd century and the Romans.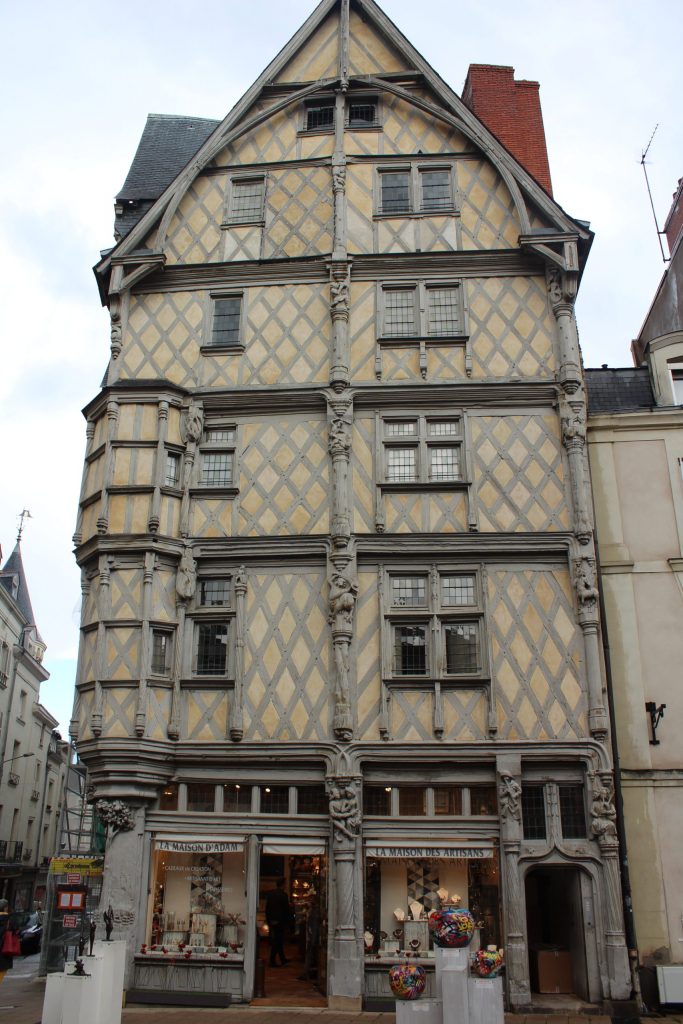 It was after the Collegiale Saint-Martin that I bid farewell to my trusty green line, and headed across La Maine river that cuts through the city. I was looking for the Museum of Jean-Lurçat and Contemporary Tapestry, and even though it was a bit off the beaten path, I was hoping my trek would be worth it. Spoiler alert, it was. In fact, the museum was not just one, but two buildings full of beautiful tapestries and artwork. Definitely worth it.
It seems silly to say this now, but it had never occurred to me that artists were still making tapestries today. I suppose I only thought of this art form in terms of the Middle Ages, but I couldn't have been more wrong. Not only are there lots of artists still working today, but the tapestries on display were stunningly beautiful. I loved them all, but the highlight for sure was The Song of the World (La Chant du Monde) by Jean-Lurçat. It was housed in a former St. John's hospital that dates back to the 12th century, and it covered multiple walls. The location would have been worth the trip alone, but the incredible detail and imagery of the tapestry was extraordinary. It was the perfect way to end the day.
It ended up being a very sleepy ride back into Paris that night, but it had also been a wonderful day. Although, for those of you who know your Angers history, you may be wondering how I could have possibly missed the city's most famous monument. Well, for that, you will just have to stay tuned for Part II…
---
Laura Moore is a professional storyteller who loves history and the many stories that make Paris one of the most fascinating cities in the world. Join one of her signature tours to learn the story of a city.