My first memory of seeing a movie in a movie theatre is going to see Disney's Beauty and the Beast. And it was a magical experience. It was the first movie to capture my attention from beginning to end. It was the first time a movie made me cry. And I'm pretty sure my lifelong quest to turn my home into a library can be directly traced to this film. To put it lightly, I love Beauty and the Beast. That's why I had to visit the town of Colmar on a trip to Alsace earlier this year.
Now, lest I get yelled at by the Disney experts, I should note that officially, Belle's town in the film was based on the Alsatian towns of Riquewihr and Ribeauvillé. This is because Colmar is neither a "little town" nor a "quiet village". It is actually the third largest city in Alsace, with records of its existence dating back to the early 9th century. Ownership of Colmar has alternated between France and Germany since 1871, and it was briefly occupied by Sweden in the 17th century. Yes, I know. Sweden! Today, Colmar is famous for its wine, the Isenheim Altarpiece at the Unterlinden Museum, and its gorgeously preserved old town. I wanted to experience all three, but it was the old town that made me squeal with joy. Because yes, I was that tourist.
In my defence, the old town of Colmar is stunningly beautiful. You really do feel like you've stepped onto a film set, because surely something so picturesque could only exist in the movies. But it does exist, and the rows upon rows of colourful, half-timbered houses are exquisite. As always, my first stop was the tourist information centre, where a lovely woman provided both a map and instructions on how to follow the triangle medallions embedded in the streets. You can follow these medallions to hit all the important sites, or you could do what I did and hop on the tourist train. Again, yes, I was that tourist.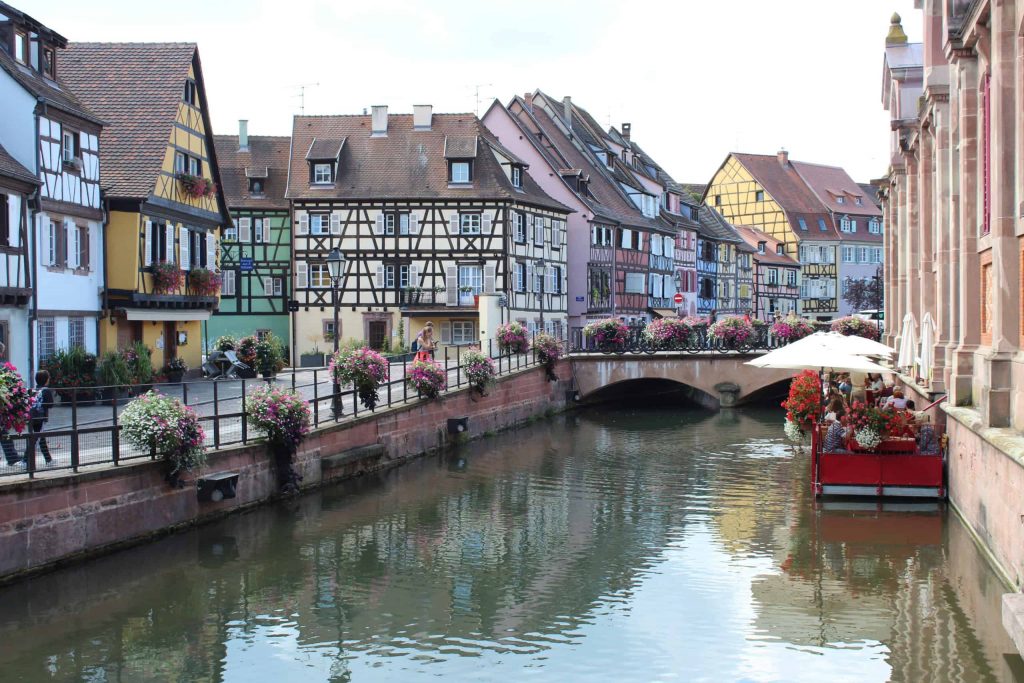 The rest of the day was spent visiting the Église Saint-Martin, Colmar's famous covered market, and the Schwendi Fountain, otherwise known as Belle's Fountain. But my favourite place in Colmar by far was the lower part of old town. There, canals crisscrossed through the streets, giving it the nickname of Little Venice. And it more than lived up to that name. I could have wandered those streets for hours, just taking in the beauty of the scenery around me. I later had lunch while sitting along one of the canals. And with a traditional Flammekueche in front of me and a glass of wine in hand, I'm not going to lie. Life was pretty grand.
I don't think I will ever stop being amazed at the sheer volume of beautiful towns that France has to discover. This country seems to have an endless supply of them, and I couldn't be happier about it. There is so much to learn from these places; so much to see and so much history to understand. And sometimes, if you're really lucky, you get to spend the day walking through a fairy tale.
---
Laura Moore is a professional storyteller who loves history and the many stories that make Paris one of the most fascinating cities in the world. Join one of her signature tours to learn the story of a city.