Last October, I had the opportunity to have a staycation in Paris. I had never taken a staycation before, as I usually prefer to actually go somewhere if I'm going to take a vacation. But it was still 2020 and travelling was a no go, so I jumped at the chance to spend the night at the Grand Powers Hotel in Paris. Unfortunately, France's second lockdown began shortly after my stay and the hotel closed its doors, much like everything else in the city. But Paris has finally re-opened and travel is now permitted for those who are fully vaccinated. Which means I'm thrilled to finally be able to share the story of my staycation in the Golden Triangle of Paris.
You might be wondering just what exactly is the Golden Triangle? Well, for starters, it is an actual triangle. It's also a neighbourhood in the 8th arrondissement that is bordered by Avenue Montaigne, Avenue des Champs-Elysées, and Avenue George V. All three avenues are iconic in their own right, and together, they form a triangle of both luxury and history. In particular, Avenue Montaigne is home to many legendary high couture fashion houses, including Prada, Gucci, Louis Vuitton, Valentino, and Armani. Christian Dior opened his very first atelier on this fashionable street, designing and sleeping in the building for over 10 years. Today, it remains Dior's flagship boutique.
The Grand Powers Hotel is located right in the heart of this triangle at 52 Rue François 1er, and it is a gorgeous boutique hotel. It originally dates back to 1920, but the hotel recently underwent a complete renovation, so everything is brand new. There are only 50 rooms altogether, meaning the level of service you receive is out of this world. I'm not over exaggerating when I say that my friend and I were treated liked royalty from the minute we walked in the door by everyone we encountered. And it was an authentic level of hospitality. Everyone from the front desk to the bartenders to the concierge were all so genuinely nice.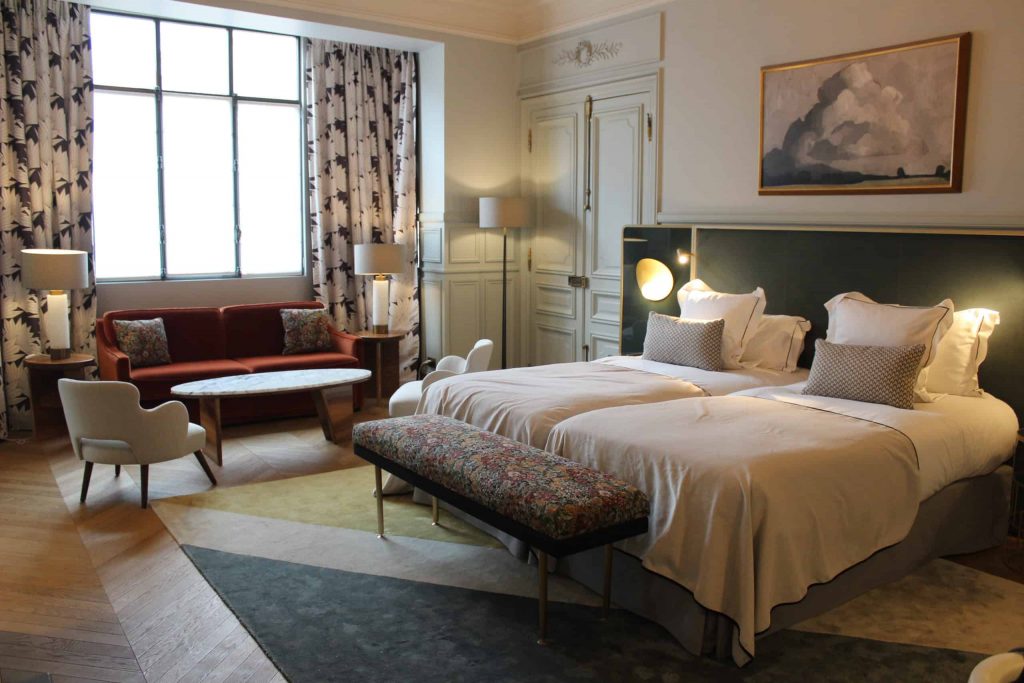 The best part, however, was our room. I can honestly say I've never stayed in such a fancy hotel, and I fear there's no going back now. At the time of our stay, Paris was at the start of what turned out to be a very long (and still ongoing) curfew, but that didn't matter to us. My friend and I were happy to spend our time in the nicest hotel room either of us have ever stayed in, with a bottle of champagne to make the night extra special. Believe me when I say it was with a heavy heart that we bid our room adieu the next morning.
If you're planning a trip to Paris in the foreseeable future, or if you're already in Paris and need a staycation, I highly recommend splurging for a night (or two!) at the Grand Powers Hotel. Another friend and I were supposed to make a return on New Year's Eve, but sadly, the ongoing lockdown in Paris kept the hotel closed. But with everything opening back up, I will definitely be back sooner rather than later. Even if just for a drink at the hotel's ridiculously stylish bar. The 8th arrondissement and the Golden Triangle were the centre of high society during the Belle Epoque, so I will imagine that I'm drinking among 19th century luminaries.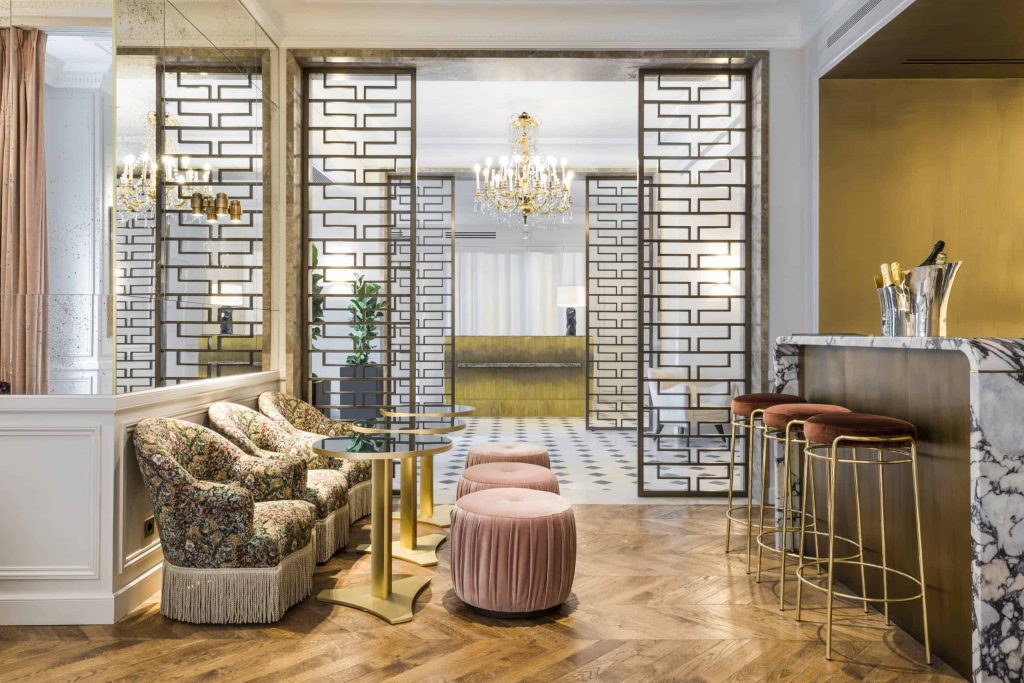 One last fun fact. For anyone who knows their French music history, composer Henri Betti decided on the title of the classic song "C'est Si Bon" at the Grand Powers Hotel back in 1947. This song has since been sung by Eartha Kitt, Bing Crosby, Dean Martin, Diana Krall, and countless others.
A big thank you to Paris Art Ltd for this experience.
---
Laura Moore is a professional storyteller who loves history and the many stories that make Paris one of the most fascinating cities in the world. Join one of her signature tours to learn the story of a city.