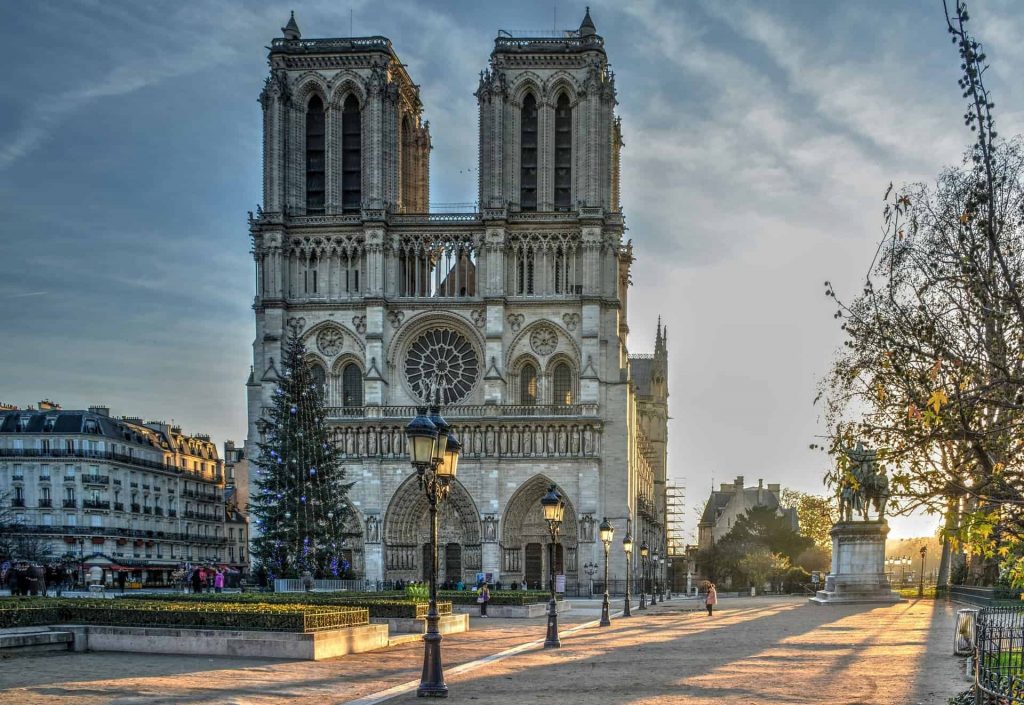 I've been thinking all month about what I wanted to say in my annual year in review. A lot of amazing things happened this year for me and Story of a City. I launched new features, such as Find Me and Stories of Paris. I created several new tours, including a Versailles Experience with my good friend and pastry chef Molly Wilkinson. And once again I met incredible people from around the world. By any measure, this past year was a great one. And yet, whenever I think of 2019 and guiding, my thoughts invariably go to that night in April when Notre Dame Cathedral caught fire. It was a devastating moment, to be sure, but it was also strangely affirming. Let me explain.
I have always said that tour guiding is all about storytelling. It's why I love guiding so much. I get to visit beautiful sites every day, and tell people all the stories that make these sites so special and historically significant. While I love telling these stories, I will admit to sometimes wondering how much people enjoy hearing them. I can talk for hours about French history, but after awhile, people sometimes lose interest. That's why finding the right balance can be tricky. Especially at Notre Dame. My love for that building runs so deep, I have to remind myself to keep that in check, lest I come off as melodramatic. Or worse, disingenuous. At the end of the day, all I've ever wanted was for people to understand why Notre Dame is so special.
And then this past April, I received a text. "Notre Dame is on fire." I didn't believe it at first. I had just come from Notre Dame, having finished a tour there that afternoon, and everything was fine. But I looked online, and sure enough, Twitter was full of photos of a thin wisp of smoke emanating from the roof. It was small, and looked utterly nonthreatening. Nothing to worry about. But then the pictures began flooding in and the images kept getting worse. By the time the television stations switched over to live coverage, the roof of Notre Dame was ablaze.
Every once in awhile, something happens somewhere, and the whole world watches history unfold. April 15th, 2019 was one of those moments. It felt like the whole world was watching in horror as Notre Dame burned. It may seem odd that a building could provoke such a reaction, but Notre Dame was important to so many people for many reasons. Religious, historical, architectural. For myself, Notre Dame was my first home in Paris. It was a familiar comfort as I adjusted to my new life abroad, and I was devastated to watch it go up in flames. I wasn't finished telling its story, and I knew that it would be a long time before I would be able to do so again.
Later that night, I checked my email before going to bed, and I don't care if this does sound melodramatic, but my heart actually soared. There, sitting in my inbox, were dozens of messages from people who had been on my tours in the past. People who I hadn't seen in years had taken the time to reach out to me and tell me that they still remembered my stories all these years later. That is the moment that I will always remember the most vividly about 2019.
I have loved Notre Dame Cathedral since I first laid eyes on it when I was 14 years old. I've always felt a special connection to that building, and when I began guiding there five years ago, all I wanted to do was share that connection with others. To tell them the story of a building that has survived wars, revolutions, and ravaging fires. I know it will likely be years before I get to guide there again, but rest assured, as soon as Notre Dame is reopened, I'll be back, sharing its stories once more. Until then, I hope I see you Paris next year. There's plenty more amazing stories waiting to be told.
Happy Holidays Everyone!
_______________________________________________________________
Laura Moore is a professional storyteller who loves history and the many stories that make Paris one of the most fascinating cities in the world. Join one of her signature tours to learn the story of a city.